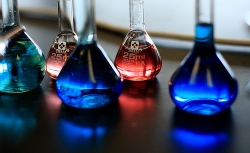 Image: by WilzDezign. \Made available via Creative Commons
---
Welcome! This guide points to the wide range of high quality Library resources available for Chemical Sciences.
The Library holds lots of books, and journal articles that will help you in your studies. We'll show you how to sift efficiently and critically through information on the internet so that you can go straight to what you need. Ask us about citing and referencing your sources - we can help with that too!
This guide will help you find material on your reading list and begin independent research.
Click through the tabs to learn more about:
finding books and ebooks
finding a specific journal article
finding journal articles on a topic (by searching a database)
citing and referencing your sources
Below is a word cloud showing some of the key concepts in Chemical Sciences. To get started, search for these keywords in our catalogue (for books) and databases (for journal articles); click through the tabs at the top of this page to find out more.